05 août 2009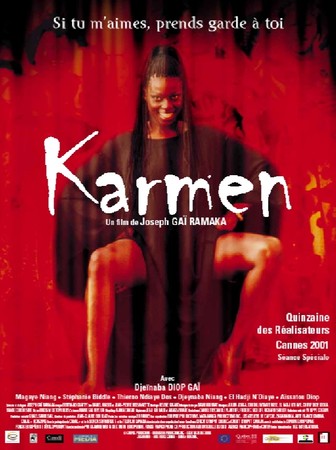 Pour voir la vidéo: http://Karmen-vu-par
"Karmen" Analysed by Joanna Grabski ...
Karmen Gei Written and directed by Joseph Gai Ramaka, produced by Richard Sadler 82 minutes, color 2001, Senegal In French and Wolof with English subtitles VHS distributed by California Newsreel and DVD distributed by Kino International
Based loosely on Georges Bizet's 1875 opera Carmen, Karmen Gei is the first African film musical of this frequently adapted tale. (1) In Karmen Gei, Senegalese filmmaker Joseph Gai Ramaka deploys several creative interventions to re-imagine the legendary story from 1820's Spain to postcolonial, urban Senegal. Gai Ramaka is not especially invested in delivering a faithful rendition of the well-known Carmen plot. Rather, his production focuses on exploring both the exuberance and destructive power of Karmen's character. Gai Ramaka takes the Carmen prototype, originally a free-spirited gypsy, and reframes her within the prism of Senegalese life in particular and postcolonial Africa in general. In this frame, Karmen is not just an independent, free-spirited woman whose voracious carnal desire leads to her tragic fate. She is also an outlaw, sexual maverick, and political dissident. Within the first ten minutes of the film, Gai Ramaka establishes Karmen as a veritable force of nature capable of destabilizing anyone and anything in her path. As the chorus of women inmates sings, "Be careful! Hide your women, hide your men. Karmen has come! She who creates havoc is here."
The key ingredient of the Carmen legend is the relationship among the protagonist Karmen, singer Massigi (Escamillo the toreador in the Bizet version), and the corporal Lamine Diop (Don Jose in the Bizet version) whose life she ruins and who eventually kills her. In this version, Gai Ramaka further complicates the love triangle with the character of Angelique, the prison warden whom Karmen seduces, thereby ensuring her escape from Kumba Kastel women's prison. (2) Gai Ramaka's inclusion of Karmen's relationship with Angelique is both the most avant-garde aspect of his adaptation and the most essential to the story's postcolonial perspective. As suggested by her name, the comparatively fair-skinned Angelique provides an important antithesis to Karmen's "devilish" character. Because Angelique is Christian, as demonstrated by her funeral, and a prison warden, she represents the authority of the former colonizers. Karmen, on the other hand, embodies the counterpoint to and collapse of all that Angelique represents. After realizing that she can never truly possess Karmen, the despondent Angelique commits suicide by drowning herself in the seemingly boundless ocean off Goree Island's coast.
Set within the postcolonial context, Karmen's unbridled freedom poses a threat to the colonial and patriarchal structures that can neither control nor contain her. Although Karmen's sexuality serves her pleasure, it is also her tool of power, for it embodies the means by which she challenges and destroys symbols of authority, including the prison warden Angelique and army corporal Lamine Diop. Along the same lines, Karmen's bisexuality indicates her full sexual liberation from heterosexual patriarchy. Her "emancipation" thus raises a compelling question about women and sexual politics in Senegalese society: What power do women possess to topple the structures of authority? Like the films of fellow Senegalese Ousmane Sembene, Gai Ramaka's production praises the might of women. Several scenes are crucial to constructing this motif. In addition to the beach scene where Karmen extols women's strength to Massigi, the lengthy musical scene at Karmen's mother's bar also references female Senegalese historical figures renowned for their heroism, bravery, and tragedy. It is here that we meet Massigi who, like a griot, recounts the legacies of Aline Sitoe and the women of Nder. (3)
Compared to films by Senegalese filmmakers, including Ousmane Sembene and Djibril Diop Mambety, known for their slow pace, serious tone, and sociopolitical didacticism, Gai Ramaka "s production might be characterized as ente...